Adventure Travel in South Africa
---
South Africa Homepage | Africa Homepage | Geographia Home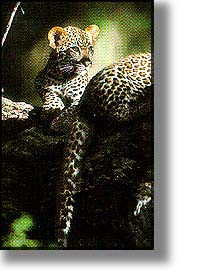 South Africa is a very large and extraordinarily varied land, offering almost unlimited opportunities for adventure travel of all sorts--from diving and whitewater rafting to mountain-climbing and trekking. For most visitors, however, adventure travel in South Africa means safari travel, and the best-known safari area in the country is Eastern Transvaal, a continuous stretch of savanna extending for 400 miles along South Africa's northeastern border. The Eastern Transvaal is home to Kruger National Park, undoubtedly one of the finest game reserves in all of Africa. In addition to the Kruger--and its surrounding private game reserves--visitors interested in safari travel in South Africa are also frequently drawn to Kalahari Gemsbok National Park. A narrow tongue of land extending northward into the vast expanse of the Kalahari Desert, Kalahari Gemsbok is an area of rugged beauty, with shifting dunes, wide-open vistas, and great herds of springbok and gemsbok.

Kruger National Park
Stretching over 350 miles from north to south, and teeming with wildlife, Kruger National Park is justly rated as one of the world's finest game reserves. Kruger is home to more species of wildlife than any other game sanctuary on the continent, and is one of Africa's few remaining havens for big cats. Well over a thousand lions, and large populations of leopard and cheetah, roam freely here, along with substantial numbers of elephant, zebra, rhino, giraffe, hippopotamus, impala, and kudu--more than enough to satisfy even the most shutter-happy photographer. Kruger is also--like South Africa as a whole--an outstanding destination for birdwatchers, offering a scarcely believable diversity and abundance of species.
Founded in 1898 by Paul Kruger, the park has over the last century been well tended and carefully developed. Unlike many reserves and sanctuaries, it is blessed with an outstanding road network, and in recent years its perimeter fencing has been substantially reduced, allowing greater migration ranges and increased wildlife populations. Stretching along the park's western border are a number of private reserves, supplementing the land available to Kruger's game and allowing greatly enhanced opportunities for safari visits. On the private reserves, visitors are permitted to travel on foot, in open vehicles, and to view wildlife at night, none of which activities are permitted within the park itself.
Kalahari Gemsbok National Park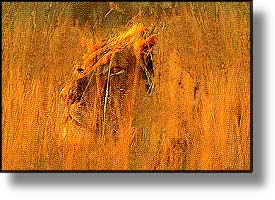 More remote and rugged than Kruger, the Kalahari Gemsbok National Park is situated at the southern extremity of one of the world's great desert regions--the Kalahari. Despite the relative absence of lush vegetation, the park abounds in wildife, including impressively large herds of springbok, gemsbok, eland, and wildebeest. Unsurprisingly, these herds also attract another expected visitor: the Kalahari lion. Visitors to the Kalahari may have to make do without the luxurious accommodations of the Kruger's surrounding private reserves, but for the hardier traveller Kalahari Gemsbok can be a destination of unparalleled grandeur.

Canoeing the Orange River
The great Orange River originates in the Lesotho highlands, where it begins a long, meandering sweep westward across center of the country. By the time it reaches the Atlantic Ocean on the Namibian border, it has travelled 2,340 kilometers. Wide and gentle, with just enough rapids to get the heart beating, it is ideal for canoe safaris.
The most popular area for canoe safaris on the Orange River is the northwest, where the river wends through the sere realms of Bushmanland. The banks of the river, however, are typically lush --- an oases ideal for viewing birds and game. Just beyond the river's edge lurks a totally separate environment, a desert landscape with beautifully austere hills and mountains in the distance.
Camel Safaris
Though camel travel invariably brings to mind desert visions of Arabia, North Africa, and Asia, it is increasingly becoming a popular safari alternative in South Africa, which has more than its share of desert.
There are two unique desert environments ideal for camel safari's in South Africa: the Kalahari and Bushmanland. While the Kalahari offers a more duned landscape, Bushmanland is semi-arid and pierced by the Orange River. Both regions are abundant in game.
Smaller Parks and Reserves
South Africa's smaller parks and reserves are of undoubted interest, as many offeractivities and attractions unique to their particular region. In Natal in particular are a cluster of very fine smaller reserves, including Hluhluwe Umfolozi Park. Comprising a lovely territory of grassland, woodland, and forest, Hluhluwe Umfolozi possesses for its size a remarkable population of big game--including especially large numbers of rhino and nyala. Also in Natal are the parks of the Drakensberg Mountains, which offer unparalleled attractions for trekkers, climbers, and birdwatchers. Among the best are the Royal Natal National Park and the Natal Drakensberg Park.
---
South Africa Homepage | Africa Homepage


Copyright (c) 1998-2005 interKnowledge Corp. All rights reserved.