Exploring Morocco
---
Morocco Homepage | Africa Homepage | Geographia Home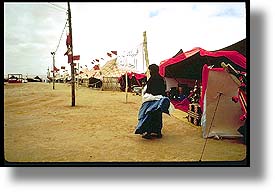 For adventure travellers, the attractions of Morocco are found in its three primary mountain ranges--the middle, high, and anti-Atlas--and the Sahara. Trekking in the High Atlas is especially popular. No traveller, however, should pass up the opportunity to visit Morocco's great old cities. Tangiers and Casablanca, long associated with expatriates and French colonial charm, can still be fascinating. However, they are ultimately much less appealing than the ancient imperial cities of the interior: Fes, Meknes, and Marrakesh. In Fes and Marrakesh in particular, the labyrinthine streets and passages of the centuries-old medinas offer endless possibilities for exploration.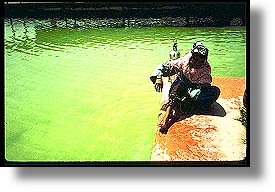 Trekking in the High Atlas is not to be passed up. The experience will reward visitors with some of the most spectacular scenery and views in Africa. The summit of Jebel Toukbal, Morocco's highest mountain, is an excellent choice, offering stunning panoramic views of the surrounding country. Although the two-day trek is suitable for anyone who is reasonably fit, you will need to bring boots and warm clothes--it can be hard going and cold on the way up to 4165 meters, especially in the desert night. Fortunately there is a lodge at Toukbal, located a little more than halfway up. Although Toukbal is the most popular of the Atlas treks, there are plenty of others available, and you can arrange trips of virtually any length. For longer treks, and for walking in more remote regions, a guide is strongly recommended.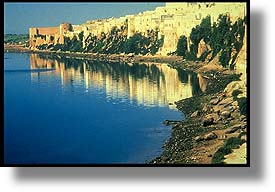 The name itself conjures up romantic images of vast unending sands, charming desert oases, and of course the sheltering sky. If visitors to Morocco really want to lose themselves and get away from it all, there is no more extreme way to do so than to set off across the great desert. Morocco, however, is really little more than a starting point--it is Algiers that contains the Grand Ergs of rolling dunes that most of us associate with Saharan adventure. Although Morocco does offer a glimpse of Saharan dunes at the southern extremity of the lovely Draa Valley, it is also a convenient starting point for a trip to the Grand Erg Occidental (the western sand sea of the Sahara) in western Algiers. The border crossings at Oujda and Figuig are the most common departure points.
---
Morocco Homepage | Africa Homepage

Copyright (c) 1998-2005 interKnowledge Corp. All rights reserved.