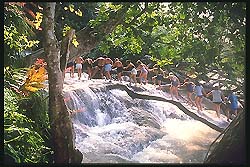 Ocho Rios
The name "Ocho Rios" has two possible origins: it is either a direct translation from Spanish meaning "eight rivers" or an adulteration of "las chorreras" (the spouts), reflecting the large number of waterfalls in the area. Ocho Rios is located in St. Ann's parish about 60 miles from Annotto to Discovery Bay on a half-moon shaped cove in the middle of Jamaica's northern coastline. It was formerly a fishing port and was also known for its banana exports. Now it is a pretty resort town with stunning waterfalls and beaches and interesting colonial-period buildings like the Geddes Memorial Church and the Anglican Church. The town's business and commercial center is Pineapple Place.
When not indulging in the many activities available--horseback riding, polo, golf, tennis, shopping, scuba diving, deep-sea fishing, swimming or sunbathing--there are a number of interesting sights worth seeing in the environs of Ocho Rios:
Rio Nuevo
In 1658 it was the site of a clash between Spanish and British troops over who would possess the island. As we now know, the British won the fray.
Port Maria
Located on Pagee Beach, it has a number of well-preserved buildings of the colonial period.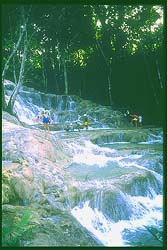 Dunn's River Falls
The Dunn's River cascades over a number of rock terraces on its way to the sea and a beautiful beach. The stepping stones of the falls allow easy access up and down their 600 feet, under a stimulating shower. There is a Dunn's River feast every week with dancing, music and swimming.
Discovery Bay
The Spanish established a port here after Christopher Columbus' arrival in 1494. The three-acre Columbus Park nearby has buildings from the Spanish colonial period.
Fern Gully
A former river bed, it is now possible to walk three miles through the valley in the shadows of magnificent ferns (600 types) and hardwood trees.
Plantations
Working plantations still exist at Prospect Estates and Brimmer Hall, model agricultural centers which the produce some of the island's major exports, coconuts, bananas and citrus fruits. Tours of the estates include lessons on the life cycle of the banana plant and the proper way to carry a bunch of coconuts in a head basket.
Caribbean Homepage | The World
---

Copyright (c) 1996-2000 interKnowledge Corp. All rights reserved.