All rail passes are offered by Rail Europe, either directly or through travel agents. Rail passes should be purchased before leaving the U.S. Rail Europe also sells point-to-point tickets between most cities, including tickets for the Channel Tunnel's Eurostar trains. For information on fares and schedules, and for bookings and seat reservations, call Rail Europe at 800-324-RAIL (800-324-7245) or visit their web site by clicking here.
By Train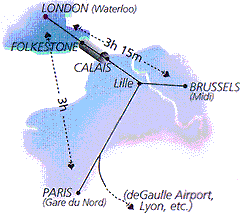 In Europe, railways are basic to moving people. Thus trains tend to be very reliable and to maintain high levels of service.
Europe's trains are also frequent; 30,000 operate each day in Germany alone. And they are fast, with French Trains á Grande Vitesse running at up to 200 mph.
Indeed, Europe's railways have engineered a revolution in travel, as exemplified by the sleek Eurostar passenger trains which share the 23-mile-long Channel Tunnel with Le Shuttle trains carrying autos, buses and trains.
Fourteen Eurostars run daily in each direction to link London and Paris in three hours. Prices start as low as $85 for pass holders in standard class. Another eight trains run in each direction between London and Brussels (now down to two hours, 45 minutes). Some trains stop at Ashford (southern England) and at Lille, the big junction with the French TGV system.
For Eurostar information and reservations, call Rail Europe at 800-324-RAIL.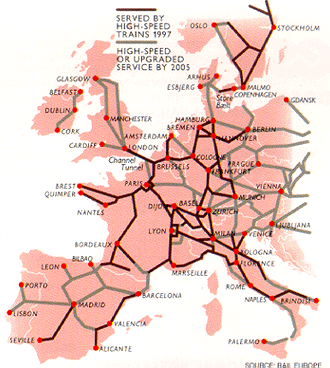 High-speed rail service has expanded rapidly since France opened the first TGV line in 1981 between Paris and Lyon (see map above).
Today, French TGVs run to more than 150 cities, including Geneva, Lausanne, Zurich and Bern in Switzerland, and Turin and Milan in Italy. The Paris-Lyon service is so busy that every hourly TGV is a roomy, double decker with 916 seats. The red Thalys trains have reduced the running time from Paris to Brussels to only one hour, 25 minutes; they then go on to Rotterdam and Amsterdam, or to Liége and Cologne.
Germany's InterCity Express service covers main routes like Hamburg-Munich, Frankfurt-Berlin, Berlin-Cologne, Frankfurt-Munich and Frankfurt-Hamburg. Basel, Zurich, Bern and Interlaken are also served by ICEs. In Sweden, the X2000 tilt trains speed between Stockholm and Gšteborg.
Italy's Pendolinos are a common sight on domestic main lines like Milan-Florence-Rome, and also on routes to Switzerland under the name Cisalpino. Spain's highly praised Tren de Alta Velocidad Español zips between Madrid and Seville in two hours and 15 minutes. In 1997, new Euromed high-speeds began running from Barcelona to Valencia in just three hours, with stops in Tarragona and Castellón, before going on to Alicante. Work is under way on a new AVE line from Madrid to Barcelona and north to Narbonne where it will connect with the French TGV system.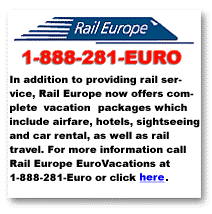 The glamorous TGVs, AVEs and Pendolinos make up only a small part of the rail network. Europe's standard trains are excellent as well, particularly the network of EuroCity express trains, with dining cars and sleepers, that link major cities. Some express running times: Frankfurt-Milan-Rome, 14 1Ú2 hours; Paris-Madrid, 12 1Ú2 hours; Vienna-Venice, eight hours.
Hotel trains, such as Spain's overnight Talgos to France, Switzerland and Italy, are an attractive way to make the most of your time and save on hotel accommodations. Equally comfortable are Germany's new InterCity Night trains.
It's generally recommended that you make reservations for seats on busy routes when buying tickets. Also, check for special fares for both children and older persons; they are available on many national railways.