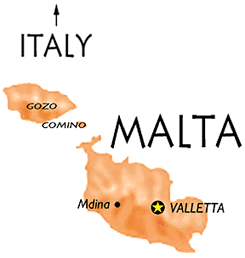 The sunny islands of Malta, Gozo and Comino make up the Maltese archipelago. The Knights of St. John fortified the Grand Harbour at Valletta, one of the Mediterranean's great bastions.

Points of Interest
Area: The five islands (two are uninhabited) cover 122 square miles (altogether making up an area smaller than Philadelphia). Population: 365,000 (Valletta, 9,300). Language: Maltese, English (Italian and French are also widely spoken).

Highlights
Valletta's sights include the Palace of the Grand Masters and the Armoury, St. John's Co-Cathedral and Museum, the National Museum of Fine Arts and the National Museum of Archaeology.
Sliema, with the neighboring St. Julian's-St. George's area, is the modern residential area with hotels, clubs and restaurants.
Cospicua, Senglea and Vittoriosa are also known as Bormla, L'Isla and Birgu- "The Three Cities." These fortified towns on the eastern shores of the Grand Harbour were built before Valletta was constructed in 1566.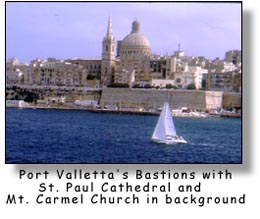 Mdina, the old Saracen capital near Rabat, has come to be called the "Silent City" for the peace and seclusion of its ancient streets. Of particular interest are the Mdina Cathedral and Museum, and Palazzo Falzon. "The Mdina Experience," a spectacular audio-visual presentation of 7,000 years of Maltese history, is well worth a visit.
Rabat is known for St. Paul's Church, built next to a grotto where St. Paul is said to have taken refuge when he was shipwrecked on the island while being taken to Rome in A.D. 60. Also noteworthy are the early Christian catacombs dedicated to St. Paul and St. Agatha and the Museum of Roman Antiquities.
Gozo, the isle of mythical Calypso, can be reached in 20 minutes by car-ferry from Malta. The capital of Gozo, Victoria (popularly known as Rabat), is dominated by the Citadel and dates back to the 17th century.
Comino is the smallest of the inhabited islands—there are just a few families and one hotel. It can be reached only by ferry; boats from Malta (a 20-minute crossing) operate from April to mid-November.