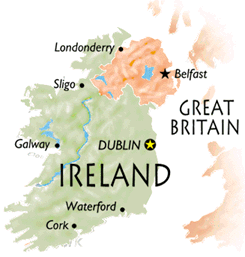 It's difficult to imagine a friendlier country- the Irish pride themselves on warm welcomes. Scenic attractions only begin with the Lakes of Killarney, the Wicklow Mountains and the Cliffs of Moher.

Points of Interest
Area: 26,600 square miles (a bit larger than West Virginia). Population: 3,556,000 (Dublin, 478,000; Cork, 127,000). Languages: Irish Gaelic and English.

Highlights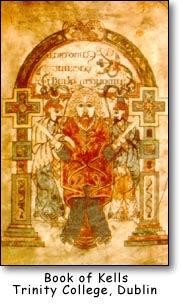 Dublin has wide avenues and cobblestone walks, bustling riverside quays, open-air markets and elegant Georgian doorways. The River Liffey divides the city north and south. This is the home of 400-year-old Trinity College and the great literary and theatrical tradition that includes the Abbey Theatre, the James Joyce Museum and the Dublin Writers Museum. The Guinness Brewery and many an inviting pub are favorites.
"Dublinia," a multimedia presentation at Christ Church Cathedral, tells the history of the city in medieval times. Don't miss the revitalized Temple Bar with its many shops and restaurants.
Cork is the "capitalÓ of the south, a hilly city watched over by St. Ann's Church, Shandon, with its magnificent chimes. Near Cork are the ruins of Blarney Castle, home of the stone of eloquence, set high in a parapet of the castle. Also visit the Heritage Centre at Cobh, from which 2.5 million emigrants embarked for America; and the Jameson Heritage Centre at Midleton, east of the city.
Limerick, on the River Shannon, counts among its many attractions the Treaty Stone on which the treaty was signed to end the brave defense of 1691 against William of Orange. King John's castle is well worth a visit, as is the Foynes Flying Boat Museum in County Limerick.
Galway is best known for its picturesque bay, the late August race week, and the annual Oyster Festival held in September. The writer William Butler Yeats lived in a tower house (now restored) near Gort, to the south. The rugged Aran Islands beyond the mouth of the bay have distinctive stone-walled fields and Gaelic-speaking residents.
County Mayo is sheltered by Croagh Patrick, Ireland's holy mountain. The coast is dotted with islands. At Ballycastle, visit Ceide Fields, a 5,000-year-old agrarian settlement complete with interpretive center.
County Donegal, in the northwest, offers spectacular rugged scenery. Visitors can enjoy the scenery and walks at Glenveagh National Park.