Attractions
Tower of London. Over the centuries, it has been a focal point of English history, serving as fortress, palace and prison. The Jewel House has been remodeled and now has wheelchair access.
Westminster Abbey, London. Spiritual heart of Britain, where the nation crowns and buries its rulers and heroes. In 1997, it was the site of the funeral for Diana, Princess of Wales. The Coronation Chair is in the Chapel of Edward the Confessor. Entombed here are such literary greats as Chaucer, Dickens and Kipling; behind the high altar are Queen Elizabeth I, Mary Queen of Scots and Henry V.
British Museum, London. Antiquities from Britain, Egypt, Asia, Greece and Rome. Holdings include the Magna Carta, the Rosetta Stone, the Elgin Marbles from the Parthenon and first folios of Shakespeare's plays.
National Gallery, London. The vast collection features European paintings from the 13th through 19th centuries, including at least one work by every master. The new wing features early Renaissance masterpieces.
Tate Gallery, London. Works by Turner, Hogarth, Blake and Constable, as well as offerings from the best modern and contemporary British artists.
Victoria and Albert Museum, London. A vast collection of fine and applied arts of all countries, periods and styles. Featured are paintings, costumes, jewelry and furniture.
British Library, London. The new building is praised by some, but villified by many. Judge for yourself.
Hyde Park, London. Speakers' Corner, the Sunday forum for orators of every political persuasion, remains the best free show in town.
Hampton Court Palace, London. Built by Cardinal Wolsey, it boasts a delightful, sprawling garden. The refurbished Royal Apartments house a huge weapons collection and art gallery.
Canterbury Cathedral, Canterbury. The seat of the Church of England, it contains a shrine to St. Thomas ˆ Becket, who was murdered there, and beautiful stained-glass windows.
Burrell Collection, Glasgow. Renowned collection of Egyptian and Greek antiquities, tapestries, furniture, ceramics, stained glass, silver.
Something Special
Just after Christmas 1997, a gloriously restored Windsor Castle -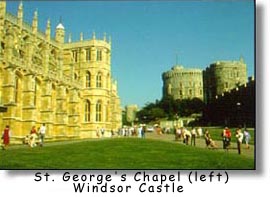 newly inlaid with 500,000 sheets of gold leaf - opened to its first visitors since November 1992 when fire ripped through Queen Elizabeth II's family home, the oldest continuously occupied palace inthe world. The art-rich State Rooms are used by the queen for entertaining on ceremonial and state occasions. Some rooms, such as the Grand Reception Room, were restored exactly as they were. But opportunity was also taken for a style update: St. George's Hall in particular was redesigned with a new hammer-beam ceiling made from 300 oak trees. Several rooms have also opened to the public for the first time ever, among them the Semi State Rooms, which include the State Dining Room.
The $60 million project was funded in large part by the Queen herself with proceeds from sales of admission to Buckingham Palace, and overseen by Prince Philip.
During 1998, Windsor Castle will be open daily except March 28, April 10, June 8Ð20 and Dec. 25 and 26. The Semi State Rooms are open for only six months of the year: January to March 29, 1998 and from Oct. 3, 1998 to March 28, 1999. The castle is also closed when the Queen is in residence; it's best to call before arriving (44-1753-868-286).
For more information, visit the Royal website: www.royal.gov.uk.