NILE RIVER


Visit our website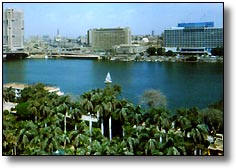 No river in the world has such an enduring place in the history of humankind as the Nile. For more than seven thousand years it has served as a highway of kings and a lifeline of entire peoples, as a mythic muse for poets and a legendary inspiration to romance. Ever changing and seemingly eternal, the Nile holds out to those who travel its waters a scene of stunning beauty, placid rhythms, and palpable, ancient majesty. To cruise the Nile is to follow in the wake of pharaohs and empresses, to partake of some small measure of myth, and to experience a journey that you will remember for as long as you live.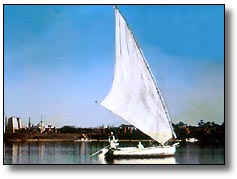 Today, as always, the Nile stands at the center of the life along its shores, defining a great north-south axis that is plied year-round by picturesque feluccas and luxurious cruise ships alike. And while it is possible to sail the hundreds of miles from Cairo in the north all the way to Aswan, the majority of visitors choose the more compact passage from Luxor to Aswan. Along that shorter stretch, which extends for something approaching 150 miles as the river rises and narrows toward Aswan, lies an extraordinary concentration of ancient sites. The temples at Esna, Edfu, and Kom Ombo, each so stunning that they would be world-famous if located anywhere else, are here dwarfed by the astonishing power of the region's most celebrated remnants of antiquity.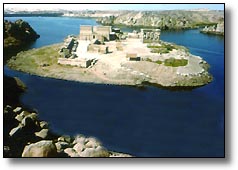 In the south, above the entrancing port of Aswan, are the great island temples of Philae and the colossal wonder of Abu Simbel, its enormous seated kings rescued from the rising waters of Lake Nasser. In the north lies Luxor, whose power defies adequate description. The Valley of the Kings is here, with the great tombs of the pharaohs and the breathtaking architectural wonder of the Temple of Hatshepsut. Here also lies Karnak, royal Egypt's most magnificent statement of its own glory, an enormous complex of massive temples and towering monuments that seem truly to be more fit for gods than for humankind. Exploring Karnak even superficially can take at least two days, and one could spend weeks rambling about the echoing vales and hidden, jewel-like tombs of the Valley of the Kings. Accordingly, cruises from Luxor to Aswan (or vice-versa) last anywhere from 4 to 8 days, with as much time spent walking among the ruins as drifting along the spellbinding Nile.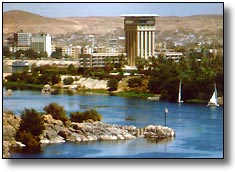 For those with a little more time, the Aswan-Luxor cruise can be extended northward to Cairo itself, an experience that adds immeasurably to your experience of the quiet rhythms and timeless pace of life along the river's shores. The longer cruise takes between 11 and 13 days and carries you along the lower Nile, a broader, more somnolent river. Its banks are less frequently punctuated by ancient monuments, but the scenes that glide slowly past the deck rail are no less hypnotic.
A number of options are available to those seeking a Nile cruise. Most common are the larger, modern cruise ships, which include both ultra-luxury, five star vessels and less costly, more basic craft. In addition, there are a number of more traditional Nile cruise boats that ply this route, including elegant river steamers of the sort that characterized Nile touring earlier in this century. Though considerably smaller than their gleaming white successors, these boats can be every bit as comfortable and luxurious. Those who have a flexible schedule and are willing to undertake more adventurous accommodation should certainly consider hiring one of the dozens of feluccas that glide about the river at Aswan and Luxor. These graceful sailboats dominated Nile water traffic for centuries, ferrying about Flaubert, Rimbaud, and all of the region's earliest tourists.