Exploring Santiago
---
An Introduction to Santiago | Chile Homepage | Exploring Chile | Ancud | Antofagasta | Arica | Easter Island | Lake of the Incas | Patagonia | Punta Arenas | Temuco | Viņa Del Mar | Latin America Homepage | The World
---


Click on the graphic above
---
Museums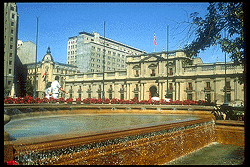 Museo Chileno de Arte Precolombino, built in 1805, displays 4500 years of pre-Columbian history and art. Located at Bandera 361; it is open Tuesday through Saturday from 10am - 6pm, Sundays from 10am - 1pm.
Museo de Santiago, located in the historic Casa Colorada. The museum has a fascinating collection of paintings, maps and dioramas documenting the city's history. Located at Merced 860; hours are Tuesday through Saturday from 10am - 4pm, Sundays from 10am - 3pm.
La Chascona (Museo Neruda), one of Pablo Neruda's many unusual homes in Chile, is now a museum. Tours can be arranged through the Fundacion Neruda (777-8741). Located at Marques de La Plata 0195.
Shopping
Providencia Avenue and two shopping malls are close by. The Mercado Central, Santiago's historic, wrought-iron central market, is also worth a visit--for lunch as well as shopping.
Restaurants
Santiago offers a wide variety of good restaurants, most of which are found in and around the city's historic colonial center. Particular recommendations can be obtained from the San Cristobal concierge, but for those who would rather make their own discoveries there are a few areas that are good bets. In the city center, Paseo Huerfanos, Paseo Ahumada, and the Plaza de Armas are good locales, as are the Alameda and Avenida Providencia. The lively, upscale Bellavista area, just south of the Cerro San Cristobal, is sure to offer any number of great dining choices.
Vina del Mar Beaches
Vina del Mar, also known as Garden City, is an internationally-known beach resort area located just outside of Valparaiso and about an hour from Santiago. Every February, the International Song Festival held in Vina del Mar attracts the finest stars of Latin America.
Ski Areas
Valle Nevado and Portillo ski centers, both among the finest skiing centers in the world, are conveniently located to Santiago. Portillo, a past host of world championship alpine events, has also been the site of a number of downhill speed records.
Vineyards
The wines of Chile have in recent decades earned a premier reputation. The Maipo Valley, the center of the country's wine production, lies just to the south of Santiago, and a number of its better wineries offer tours and tastings. For more information, inquire at the concierge desk.
---
An Introduction to Santiago | Chile Homepage | Exploring Chile | Ancud | Antofagasta | Arica | Easter Island | Lake of the Incas | Patagonia | Punta Arenas | Temuco | Viņa Del Mar | Latin America Homepage | The World
---

Copyright (c) 1996 interKnowledge Corp. All rights reserved.