Santa Theresa
This most charming of Carioca neighborhoods blends cobblestone streets and Victorian architecture with a carefree bohemian spirit. Once the home of the Carioca upper class, it now houses artists, musicians, writers, and other free souls.
Nossa Senhora da Gloria do Outeiro
This church's elegant bell tower and carved ceiling, an excellent example of Brazilian Baroque completed in 1720, provide a cul-de-sac of subtlety. Its hilltop situation reveals an urban vista.
Igregia Candelaria
At the beginning of the Avenida Presidente Vargas, the Igregia Candelaria's white dome and bell towers rise unperturbed in a jungle of downtown streets.
Cinelandia
Rio's version of Hyde Park is as offbeat as one would expect in the city. Next to a clutch of movie theaters, an open square serves as the platform for political and social debate. Rival groups often speak at the same time--and sometimes come to blows.
Paqueta
Of all the dozens of islands in the bay, well-to-do Paqueta is the largest. Its slow way of life lures visitors the world over; cars are banned on the island. To get around, one must bicycle or take a horse-drawn carriage for a very pleasant ride.
Jardim Zoologico & Museu Nacional
This natural history museum is worth a visit in itself; coupled with the landscaped pools, parks, and marble statues of its grounds make it easy to while a day away.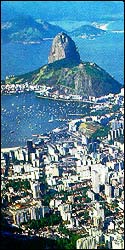 Sugarloaf
Rio de Janeiro's crown jewel in a coronet of mountains, Sugarloaf offers a much-admired view of the city itself. At the end of a breathtaking cable-car ride is a panorama of town and country, or, more correctly, metropolis and jungle.
Corcovado
The lesser-known brother to Sugarloaf might actually be the better bet: at almost twice Sugarloaf's height, one has a view not only of Rio but of Sugarloaf.
Beaches
Ipanema and the curved beaches of Copacabana and the immediate environs need no introduction, but Sao Conrado and Grumari, distant southern beaches, might be Rio's most well-kept secret. And perhaps it's better that way; Grumari's two snack bars do nothing to mask its isolated magnificence. They are only accessible by car.

Special Events
Carnival
Rio's Carnival (14 days before Lent) is nothing, if not spectacular. The casual wildness of the city's normal operation unravels into a hedonistic, fantastically-hued blur as the wealthy, the foreign, and the beautiful converge on Rio for a few precious days of abandon.
Hippie Fair
On Sundays from 2:00-6:00pm, Ipanema's Praca Feneral Osoria is transformed into a forest of booths carrying woodcarving, leather goods, batiks, rag dolls, jewelry, knickknacks of all descriptions, and well-crafted samba instruments.
---
An Introduction to Rio de Janeiro | Brazil Homepage | Exploring Brazil | An Introduction to Recife | An Introduction to Sao Paulo | Latin America Homepage | The World
---

Copyright (c) 1996 interKnowledge Corp. All rights reserved.