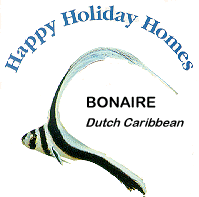 ---
Come stay at the family operated Happy Holiday Homes, where you will find peace and tranquility among the crystal blue waters of the Caribbean sea. The warm hospitality of the owners, Louise and Mel, will make you feel right at home.
Happy Holiday Homes is situated at Punt Vierkant in the quiet residential neighborhood of Belnem. Each

spacious and meticulously clean cottage is uniquely designed, comfortably furnished, and positioned so as to take advantage of the cool tradewinds. Your terrace is a great place to meet with many of the denizens of Bonaire including iguanas, donkeys, parakeets and the ubiquitous chibichibi birds.

---
Each bungalow has the following amenities:

1, 2, or 3 bedrooms with air conditioning
Living room with cable television and radio
Kitchen fully equipped with refrigerator, gas range, microwave, toaster, coffeemaker and furnished with cooking utensils, dishes, etc.
Dining area off the kitchen
Linens, bathroom and kitchen towels
A covered patio and a sun terrace
Bathroom with hot shower
Safe deposit
Small barbecue pit
110 VAC /50 cycles and 220 VAC
Self-serve laundry facility on-site
Each bungalow has its own private garden where you can enjoy the sun and quiet.
---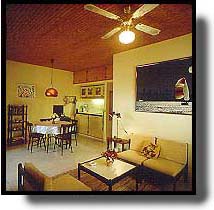 Happy Holiday Homes can help you arrange:
Basic grocery package purchases for late arrival

Car or scooter rental reservations

Dive and windsurf packages
Happy Holiday Homes can arrange for your Marriage in Bonaire! Inquire about our special honeymoon packages.
Guests are met upon arrival at the airport and guided to their accommodations. If you have reserved a car with us, it may be picked up at the airport or at your bungalow.
Happy Holiday Homes is located 2 1/2 miles south of Kralendijk and close to the sea, within walking distance of Bachelor's Beach and Lighthouse Beach. Other beaches are easy to reach by scooter, bicycle or car.

---
Bungalow Rates Per Night

1999 Summer rates
April 15 - December 15
One Bedroom Bungalow
1-2 Pers.
US$ 65.00
Two Bedroom Bungalow
4 Pers.
US$ 90.00
6 Pers.
US$ 120.00

1998/1999 Winter rates December 15 - April 15
One Bedroom Bungalow
1-2 Pers.
US$ 75.00
Two Bedroom Bungalow
4 Pers.
US$ 100.00
6 Pers.
US$ 130.00

Please Add:

.

- 10% S.C.
- Gov. Room Tax @ $6.50 pp/pd
Complimentary pick-up service upon arrival at the ariport till 10:00pm.
Car rental on request.
Note: rates are subject to change without notice
---
Happy Holiday Homes
Post Office Box 216
Bonaire, Dutch Caribbean
In Bonaire, call Louise or kitty at
599-717-8405
Fax 599-717-8605
In the US, call Garry at
(610) 459-8100 ext. 204
Fax (610) 459-3216
Any questions, please call: 599-717-8405
email: info@happyholidayhomes.com
Back to Bonaire Accommodation Page
This page, and all contents of this web site are copyright (c) 1997-1999 interKnowledge Corp and Happy Holidays Home. All rights reserved.