---
News and Press Releases
Page 1 2 3
Caribbean Star appoints Vice President of Operations
Caribbean Star Airlines has received a major boost with the appointment of Anderson Begg - one of the region's most experienced airline professionals.
Mr. Begg has over 35 years of expertise in the aviation business and holds a Bachelor of Arts Degree in Science and Technology. He has also undertaken postgraduate studies in Aerosystems.
Caribbean Star's new Vice President of Operations is a multifaceted airline professional covering the areas of Flight Operations Management, Fuel Conversation, Fleet Planning and Acquisition, Delay Analysis, Operations Control, Operations Manual Authoring, Aircraft Performance Analysis and Pilot Groundschool Instructing. He has also been a consultant, advising on aviation regulations appropriate to the region.
At Caribbean Star he is handling the management of day to day operations with corporate responsibility for flight operations, operations control, airport services, maintenance and engineering.
The airline expert is a former Deputy CEO and Vice President of Operations at BWIA. He also worked as the Director of Operations with Air Caribbean and was successful in guiding the airline in obtaining an Air Operator's Certificate for Boeing 737 and for operations into the USA.
Commenting on his employment CEO of Caribbean Star Mr. Gilles Filiatreault said, "We are very happy to have someone of Andy's expertise on our team. He brings a great deal of airline experience to Caribbean Star having worked in key positions at two other regional airlines with international services."
The airline's CEO also said that this appointment proves that Caribbean Star continues to attract some of the best the region has to offer.
Meanwhile, Sandra Scotland, Director of Marketing has now been given the additional portfolio of Sales.
# # #
Caribbean Star signs agreement with International Airlines
Caribbean Star Airlines recently signed interline agreements with three international carriers. They are Virgin Atlantic, British Airways and Air Canada.

This agreement will allow passengers traveling into and out of the Caribbean to be ticketed for travel with Caribbean Star Airlines from their point of origin to their destination.

Marketing Director of Caribbean Star Sandra Scotland says that this is a major positive development for the airline. "This is a progressive step for us to be recognized as an option for travel within the region by major international airlines. These carriers mobilize a significant number of passengers into the Caribbean annually, and we are happy to be in a position to provide travel possibilities", she says. The interline agreement allows the international air carriers to use Caribbean Star services as part of the passenger's journey as well as tagging their luggage all the way to their final Caribbean destination on Caribbean Star.

The interline agreement allows the international air carriers to offer Caribbean Star as an airline of choice and to provide the consumer with transfer from origin and destination.

Caribbean Star CEO Gilles Filiatreault commented, "It is certainly a vote of confidence for us, entering into an interline agreement with these well recognized international carriers which are known for their high standard of safety, service and performance. We are clearly becoming a vital force in the Caribbean's effort to propel the growth of tourism - dependent economies in the Caribbean area."

Meanwhile, Caribbean Star is in talks with other major international carriers.

For further information, please contact Earny St. Catherine, Ripple Marketing Tel: (268) 562 4237/7000 Fax:(268) 562 6711
# # #
The Return of GO STAR
In what it describes as another innovative and aggressive move, the region's newest airline has introduced special fares for the benefit of travelers.
The fare dubbed "GO-STAR" is now available and will be valid for travel until February 8, 2001. Travel between Grenada and Trinidad/return and St. Vincent and Trinidad is not included in this offer.
According to Caribbean Star CEO Gilles Filiatreault, "this is the first time in the industry in the Caribbean that any airline has introduced a seat sale in the month of January".
The Airline top man added that this move is consistent with Caribbean Star's objective of being an industry leader and providing affordable travel for people of the region.
With the GO-STAR fares travelers visit islands in the Caribbean Star network at heavily discounted rates.
Director of Sales and Marketing at Caribbean Star Sandra Scotland says that the GO-STAR fares come at a very good time for travelers. "January is usually a bit tight, financially, for most persons, coming out of the Christmas season. It was therefore felt that by introducing a sale on airline seats we would encourage travel".
The Airline's Marketing and Sales Director also said that this move by Caribbean Star shows that the airline is playing its role in private sector leadership. "The time has come for the private sector to be a lot more proactive and inventive giving impetus for greater economic activity in the islands. At Caribbean Star we are ensuring that we develop the products, services and campaigns to stir activity in our industry specifically and in the Caribbean generally", she said.
These special discounted fares on Caribbean Star also coincide with some special events and celebrations in sister islands. These include The Barbados Jazz Festival, The Millennium Games in Dominica and the Classics in the Atrium in the BVI.
# # #
Carib Aviation announces Barbuda schedule
Carib Aviation has announced its new scheduling for Barbuda, effective 8 Jan., 2001.
The morning flight will be operated as a shuttle service, with the eight-seater Islander operating three flights, leaving Antigua at 7 a.m., 8 a.m. and 9 a.m., and returning from Barbuda at 7:30 a.m., 8:30 a.m. and 9:30 a.m.
"The change will allow the public to have increased capacity to 24 seats to and from Barbuda in the morning, as well as the convenience of a choice in departure times," said General Manager Sandra Branker.
Carib Aviation will also provide one flight in the late afternoon, operated by the 19-seater Otter aircraft, departing Antigua at 5 p.m. and leaving Barbuda at 5:30 p.m

# # #
TWA TO OFFER WEEKLY NON-STOP JFK-ANTIGUA SERVICE

St. John's, Antigua, September 18, 2000 - November 25 is the start-up date for TWA's new non-stop service out of New York's JFK to Antigua, West Indies. With this new flight, TWA 973, passengers leave after breakfast and are on the beach in the Caribbean island by early afternoon. The southbound flight departs every Saturday at 10:15 a.m., arriving in Antigua at 3.20 p.m. Northbound, passengers depart Antigua on TWA 974, at 4:20 p.m. and arrive JFK at 7:40 p.m.
Moving force behind the new service, resort mogul Rob Barrett, who operates Antigua Resorts' five properties on the Caribbean island and the private Palm Island Resort in the Grenadines, said: "This offers a unique opportunity to provide the non-stop service which is in such high demand in the northeast market. TWA should be congratulated for seizing this opportunity to increase airlift to the island. It's a win-win situation for everyone! It's also great that the new service operates on Saturday - the most preferred day of the week for leisure travel and the pricing on the all-inclusive vacation makes it very attractive."
Using the new TWA service, prices for a seven-night, air-inclusive package at Barrett's Antiguan resorts - Galley Bay, St. James's Club, Royal Antiguan and Jolly Harbour - start at EP - $679 per person based on double occupancy; all-inclusive $979 per person, based on double occupancy. Reservations are available through Travel Impressions and GoGo Tours. For information call Antigua Resorts at 1.800.345.0271.
# # #
Dave Fernandez Honoured at St. Peter's Friendship Society's annual Fundraiser and Pre-Christmas Celebrations

New York, NY December 18, 2000.... The St. Peter's Friendship Society of Antigua and Barbuda, USA held its annual dinner/dance in New York this past Saturday, December 16 at the Macedonia Centre in Mt. Vernon NY. The evening's celebration, enjoyed by over 300 attendees, was filled with pre-Christmas festivities as the tradition of recording Season's Greetings for loved-ones, family and friends was continued. These greetings will be aired on local television and radio networks during the Yuletide Season.

The organization, which was founded seven years ago, has raised funds for various projects in Antigua and Barbuda. The donations have included medical supplies and a fully equipped ambulance. In addition, a scholarship to an Antiguan or Barbudan living in the United States is awarded annually.

The major highlight of the evening was the recognition and honouring of Antigua and Barbuda's Director of Tourism (USA), David A. Fernandez. Ms Brenda Lewis, President of the organization, who, in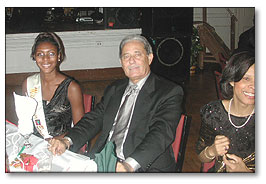 presenting the award to him stated: "Your outstanding commitment and dedication in assisting the organization to fulfil it's mission in strengthening the community of St. Peter's and Antigua and Barbuda on a whole, is one of the driving forces that has enabled us to continue the work we are committed to do." She further highlighted his contribution to the organization since it's inception.

On receiving his plaque Mr. Fernandez commented that it was a privilege to serve the organization and his country in whatever way he could. He further stated that this was the second award he had received within the last two months from Antiguan and Barbudan organizations and was humbled by the recognition of his efforts

Also present at the Christmas Celebrations was Antigua and Barbuda's representative to the United States and the OAS, H.E. Mr. Lionel A. Hurst.
---