Buluh Kubu Central Market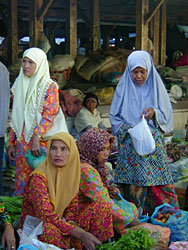 Kelantan's Central Market is one of the most vibrant and enjoyable sites in the country. The sights, sounds, and colours are uniquely Kelantanese--women traders display brilliantly-coloured fresh graden produce, food stands grill delectable barbecued chicken, and craftsmen offer traditional wares like Kelantanese silver rose bowls.
In Kota Bharu
Cultural Centre
Here, visitors to Kota Bharu, the capital of Kelantan, can view the traditional arts of Kelantan, including kiteflying, rebana (giant drums), silat (martial arts), giant top spinning, wayang kulit (shadow play).
Located in Jalan Mahmood near Perdana Hotel, the Cultural Centre is open from February to October except during the fasting month.
Gunung Stong
Kelantan's highest mountain at 1,422 metres. Located here is Gua Ikan (Fish Cave). Its name is derived from a lone rock that looks like a fish. To cave explorers on an expedition, part of the lure is trying to find a pot of gold believed to have been hidden during the Japanese Occupation.
Museum of Royal Traditions and Customs
Built in 1887 by Sultan Muhammad II for his grandson Long Kundur, this former palace, Istana Jahar, is now a museum of cultural history. The intricate wood carvings are testimony to the superb craftsmanship of the Kelantanese. Photographs, artifacts and exhibits on Kelantan's rich cultural heritage will keep visitors enthralled.
Masjid Kampung Laut
Believed to be one of the oldest mosques in Malaysia. The mosque was actually dismantled and rebuilt piece by piece from its original site at Kampung Laut because floods from the nearby river threatened its structure. The mosque was built entirely without the use of nails. It is located at Nilam Puri.
Wat Photivihan Jambu
The shrine of the largest reclining Buddha in South-East Asia is situated in the village of Kg Jambu, 12 km north of Kota Bharu.
Merdeka Square
Previously known as Padang Kelupang, Merdeka Square is one of many such central civic spaces in Malaysia. The British built most of the country's padangs as central open spaces around which revolved the buildings, and the life, of the colonial administration. When Malaysia declared its independence on 31 August 1957, the square was renamed Merdeka Square.