Bujang Valley (Lembah Bujang)
The Bujang Valley is a sprawling historical site located in the foothills of Gunung Jerai. It is the richest archaeological area in Malaysia. Archaeological research indicates that an ancient Hindu-Buddhist kingdom ruled here as early as 300 AD. Relics of the kingdom found at the site and now on display at the Archaeological Museum include inscribed stone caskets and tablets, metal tools and ornaments, ceramics, pottery, and Hindu icons. More than fifty ancient tomb temples, called candi, have also been unearthed, many of which were built during the Bujang Valley civilization's heyday. Near the most impressive and well-preserved of these, in Pengkalan Bayang Merbok, is the Bujang Valley Archaeological Museum. It is open from 9.30am-5pm daily.
Gunung Jerai
Gunung Jerai (1,200 meters) is the highest spot in the northern region of Peninsular Malaysia, and as such it has for millennia served as a landmark for seafaring traders. Myths and legends concerning this peak abound. One is of a 'king with fangs' who resided at the foothills of the mountain in the Bujang Valley, now known to be the site of Kedah's ancient kingdom.
The peak of Gunung Jerai offers a breathtaking vista, and can be reached via the nature trail or by road.
Balai Nobat (Hall of Drums)
Balai Nobat belongs to the old Sultanate of Kedah. The Hall features the nobat, the instruments of the royal orchestra. It comprises drums, gongs and a traditional flute. These instruments are played on special ceremonial occasions only. The musical skills of the nobat are generally passed on from father to son.
Pulau Langkawi
Pulau Langkawi is an internationally famous resort destination and an island of exceptional natural beauty. Explore Langkawi in our Islands & Beaches pages.
Balai Besar
Situated near Balai Nobat and facing Masjid Zahir, Balai Besar is an impressive wooden pavilion, built in 1898, which embodies certain aspects of Thai architecture. This 'great hall' is used frequently for royal and state functions.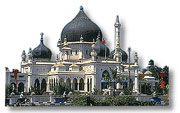 Masjid Zahir
Officially opened in 1912, this mosque is an architectural landmark. With black domes set off against slender minarets, the Masjid Zahir is one of the most elegant and aesthetically pleasing mosques in Malaysia. The state's Quran reading competition is held annually within the premises of the mosque.
State Museum
Although it is only about fifty years old, the State Museum (Muzium Di Raja) is another fine example of local architectural integration of Thai design characteristics. It houses an interesting collection of objects and artifacts of Kedah's royal and cultural heritage.
Pekan Rabu
In translation Pekan Rabu means "Wednesday Market," but the popularity of this vibrant market has extended its business hours throughout the entire week, from morning till midnight. Its colourful stalls sell handicrafts as well as delicious food. Located near the Government offices in Alor Setar.
Pantai Merdeka
Located 60 km south of Alor Setar, this 1 km beach is a popular day spot for bathing and makes for a refreshing stop after a day of touring around the Bujang Valley area. Pantai Merdeka also offers both diving and sport fishing off its coast. A day trip fishing for mackerel and sailfish runs about RM40 per person, as does a day of diving. Qualified diving guides are available