Churchill & Jones


Real Estate Limited
Experts in Freeport property, we are often referred to as
"The Old Firm with good connections and the Best Listings."
---
··
CANALFRONT HOUSE IN A PRESTIGE AREA WITH UPMARKET BEACH AND CANAL DEVELOPMENT
Fortune Bay Unit 4 Block 14 Lot 5 - Spanish Main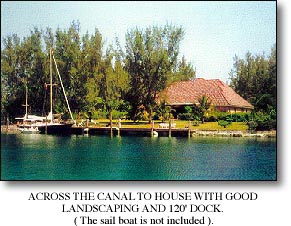 GENERAL DESCRIPTION: Single storey - high pitched tiled roof house with 4 bedrooms, 3½ bathroom, recently built with 125' dock.
LOT SIZE: 0.82 acreas - 35659 sq.ft. - fully serviced 154.88' bulkheaded canalfront.
FOR SALE: $1,050,000 cash (with fittings & fixtures-unfurnished)
COST OF PURCHASE: Buyer pays own legal fees & 4% stamp duty.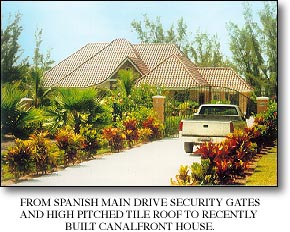 QCPR: An international purchaser of this superior residence qualifies for a certificate of permanent residence with good character and financial references in support.
LISTED BY: Hillary V. E. Jones (Broker #91) & David P. L. Hunter (Broker #90)

---
Useful Information for Potential Investors:
The Bahamas is an archipelago of nearly 700 islands, only a few of which have a significant population. The islands stretch in a great arc, extending from 250 miles off the tip of Southern Florida toward the Caribbean.
There is complete political stability, with a democratically-elected Parliament modelled on British lines. Bahamian law, based on English Common Law, is administered by an independent judiciary. The Bahamas is a member nation of the British Commonwealth.
Grand Bahama
The fourth largest island in the Bahamas, Grand Bahama covers approximately 530 square miles. Just over one third of this area is controlled (by Government Agreement) by the Grand Bahama Port Authority Limited [PORT], a privately-owned development company. The main economic resource of Grand Bahama Island remains the tourist industry, although a number of international industrial firms have located here. A substantial injection of offshore investment capital is required to improve tourist facilities, to start light industries, and to establish a larger retirement community of wealthy investors who can benefit from the company's complete Tax Haven Status.
---
Twelve Advantages of Investing in Freeport, Grand Bahama
1. Complete tax immunity. No personal, corporate, or real property taxes!
Establish a base in Freeport, Bahamas & operate through an easily formed Resident Bahamian Corporation, & you could create, retain, and reinvest your net profits tax-free in the Bahamas. When you go to join the Great Investors in the Sky there is no Departure Tax!

2. Superb Climate & A Clear Blue Sea
The average year-round temperature in the Bahamas is about 80 degrees Fahrenheit. The beaches are of clean white sand, and the sea is a brilliant blue - fishing is fantastic!

3. Ample Fresh Water Supply
Unlike many other islands, Grand Bahama has an average annual rainfall of about 55 inches, assuring an ample supply of drinking water.

4. Magnificent Infrastructure
The Freeport area of Grand Bahama Island is the best-developed & most well-served island community in the Caribbean. There is a superbly planned and maintained infrastructure, with hundreds of miles of paved roads, city power & water, cable television, and all of the facilities for modern living.

5. World Class Container Port - & More!
The Hutchison Port Group now owns 50% of Freeport Harbour and Freeport International Airport. The Harbour has been transformed from a Cruise Liner & Roll-on/Roll-off Port to a magnificent and modern container port. The port, with hard standing for 10,000 containers (including 150 refrigerator spots) and the most sophisticated Straddler and Ship-to-Shore cranes, is able to handle 400,000 container moves per annum. Freeport Harbour has been dredged to 47' at low tide, giving it a considerable advantage over Eastern Seaboard ports. As the Hutchison Group already owns 14 container ports worldwide, Freeport os expected to accrue significant benefits. Hutchison has also acquired 50% of Freeport International Airport, and plans are in hand to develop it for airfreight handling in conjunction with the container port. AND THEN.......HUTCHINSON PLAN TO BUY THE LUCAYAN HOTEL, STRIP/UPGRADE AND BUILD 1335 **** HOTEL ROOMS - INVESTING $150,000,000.

6. Incentives for the Property/Industrial Investor/International Investor
The Industrial Encouragement Act, the Caribbean Basin Initiative, the General System of Preferences & the Lome Agreements make it very attractive to start and to operate a Duty Exempt business in the Bahamas.

7. International Business Corporation [IBC]
The IBC Act provides for the incorporation, registration, and operation of International Business Corporations with a minimal amount of trouble and delay. An IBC can be formed & registered within 48 hours to establish 'non-resident' status.

8. Access to Florida
Grand Bahama is less than 100 miles from Florida's Gold Coast, and there are numerous daily flights. If you want to pay 65% Taxes, sit in a traffic jam, or wait in line for a seat in a restaurant, you can get to Miami, Fort Lauderdale, or Palm Beach quickly and economically. There are also efficient and economical direct flights to Europe.

9. Developed Properties
Houses and apartments are sold in "as is, as seen, and as found" condition. The buyer gets the existing inventory of appliances, furniture, & contents, without the owner's personal items.

10. Undeveloped Property (all pre-zoned) Ready to Build
Land of all types is available-Oceanfront, Canalfront, or Golf Course lots in choice residential subdivisions, all fully serviced with utilities, at prices ranging from $50,000 to $850,000 for prime Oceanfront.

11. We are in need of Good Inventory
We urgently need new developments to improve our inventory of condominiums, houses and rental apartments. As general brokers we have a good range of developed and undeveloped properties. We are not tied to any specific development and are able to use our resources to meet the investor's requirements.

12. Tell Us What You Want!
Please let us know the budget and the type of property you require, and we will search our listings to match your needs. The more precise you are with your requirements, the more quickly we will achieve a meeting of the minds. We are sure that we will be able to find the type of property that suits your needs and your pocket.
COMPARISON
Compare these advantages with other investment areas around the world-Switzerland, the Channel Islands, the Caymans, and Andorra, for example-and you will quickly realise that you owe it to yourself to make an inspection visit and confirm the facts.
ITS BEST IN FREEPORT GRAND BAHAMA
TAX PLANNING IS AN IMPORTANT PART OF MODERN LIFE, AND FREEPORT OFFERS AN IDEAL BASE FOR YOUR OFFSHORE ESTATE: WE OFFER A MODERN INFRASTRUCTURE, READY ACCESS TO THE US AND EUROPE, & COMPLETE TAX IMMUNITY. WITH A $250,000 INVESTMENT IN A SECOND HOME HERE IN THE BAHAMAS, YOU QUALIFY FOR CERTIFICATE OF PERMANENT RESIDENCE IN THE BAHAMAS-NO RED TAPE, NO ONEROUS CONDITIONS.
For personal service, contact:
Hilary V.E. Jones, President, or
David P.L. Hunter, Vice President
Tel. 242-352-7305
Fax 242-352-3560
Visit us at:
The Churchill & Jones Building
1 Queens Highway
Freeport, Grand Bahama
or write to us at:
Post Office Box F 42480
Freeport
Commonwealth of the Bahamas