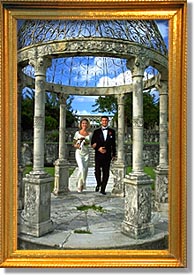 Your wedding ceremony or renewal of vows, whether traditional or unusual, can be an unforgettable experience no matter where in The Islands of the The Bahamas you choose to have it. You have many opportunities to have the wedding of your choice. The Islands offer several options in terms of theme and backdrop:
The Classic Wedding
The quaint, impressive charm of the 14th Century "French Cloisters" on Paradise Island, take you back in time as you stroll through its classic columns, overlooking Nassau's harbour.
The Tropical Wedding
With tropical flowers blooming and warm fragrant air surrounding you, weddings can be held on the hotel grounds or any of the botanical gardens throughout the Islands of The Bahamas. The bougainvillea, hibiscus, gardenias and poinciana make beautiful and unique wedding bouquets.
The Romantic Wedding
Any one of the number of islets and uninhabited cays, with their rugged shoreline that hug the Atlantic, or one of the numerous sandy beaches, provide an ideal backdrop where your "I Do" will be to the accompaniment of waves splashing up on the beach.
The Party Boat Wedding
Nuptial vows are exchanged on a festive party boat, cruising the serene waters of The Islands with the sun setting in the background, followed by dancing on board into the night.
The Aquatic Wedding
Coral Island offers a delightful glimpse of Nassau's underwater marine life, which can bear witness to your ceremony. Wearing a bathing suit or formal wedding attire, you are surrounded by the aquamarine waters, colourful coral reef and tropical marine life.
Requirements for Obtaining a Marriage License